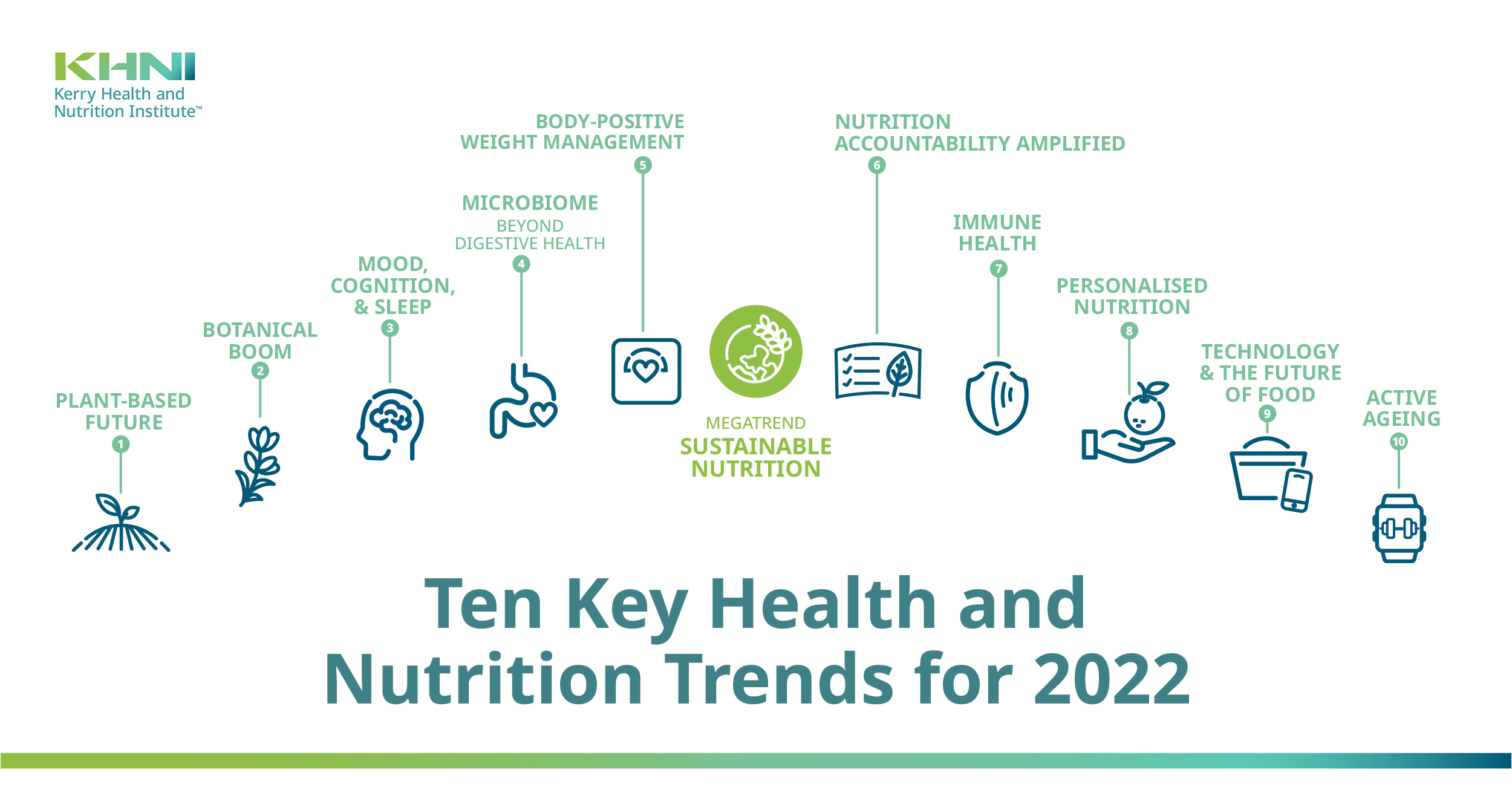 What trends are shaping the world of food and nutrition, driving our daily conversations, and guiding innovation for the future? Our experts provide their perspectives on the 10 biggest trends in health and nutrition for 2022 and beyond. Read on for unique perspectives from our scientists on each trend, resources that break down the science guiding the future, and the impact that sustainable nutrition is having on the global food system.
Click on each trend to navigate to that part of the page.
Ten Key Health and Nutrition Trends 2022
Mega-Trend: Sustainable nutrition
---
Mega-Trend: Sustainable nutrition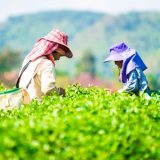 Sustainable nutrition was our leading trend last year and has become so important for the global food system that it is now a mega-trend. The idea of sustainable nutrition is becoming embedded into all innovation by food producers and decision-making of consumers. It is critical to the future of the planet and an essential part of strategies for companies in the food and beverage industry.
This mega-trend refers to nutrition that is produced and delivered in a way that is mindful for people, the planet, and society. This means an increased focus on sustainable farming and sourcing practices, closed-loop supply chains, finding health and nutrition value in waste streams, as well as development of solutions to feed populations in need.  Sustainable nutrition is at the heart of all the top health and nutrition trends for 2022.
Major takeaways:
There are groups of people who have too much food and groups that do not have enough; addressing both over-nutrition and under-nutrition globally is essential
Expect future legislation and consumer demand to hold the food and beverage industry more accountable for the sustainable nutrition of their products
Tools to capture environmental impact are still in early stages. Advances in technology and collection of LCA data will improve accuracy and transparency
Thinking additively about the four dimensions of sustainable nutrition below is a way to make strides toward a more sustainable food supply
Do you want to stay up-to-date with the latest in science-based nutrition?
(You will receive 1 monthly email updating you on our new content)
Explore further:
Sustainable Nutrition – What Does It Mean, How Can It Be Achieved, and What Does a Sustainable Diet Look Like?
United Nations Sustainable Development Goals
On-Demand Webinar – Actioning Sustainable Nutrition: Challenges and Opportunities
The Environmental Impact of Sugar Reduction
Sustainable Healthy Diets (FAO)
Learn more about Kerry's sustainability strategy and commitments
---
Plant-based future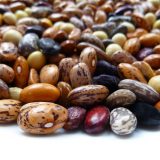 The appetite for new plant-based foods shows no sign of slowing down. As the trend becomes mainstream, there is less compromise on taste, nutritional equivalence to animal protein, and the number of varieties of product types to choose from. Technology and innovation from food manufacturers and start-ups are developing rapidly to catch up.
Two main challenges that many will face in developing these new products is taste and food safety. Plant proteins come with unique off-tastes depending on the protein source, and plant-based alternatives have different food safety challenges compared to the animal-based foods they are replacing. Plant-based food safety is an area that is constantly advancing.
Nutrition should be top-of-mind for any plant-based innovations. It is the top driver of consumers choosing plant-based products (Winning with Plant-based, Kerry Proprietary Research 2020; , Innova Trends Survey 2020 and 2021). With such a strong focus on plant-based alternatives to animal foods, it's important to remember that dietary recommendations encouraging plant-based diets are talking about eating more fruits, vegetables, whole grains, legumes, and nuts and that animal foods do have a role in a healthy diet and in sustainable food systems.
Major takeaways:
"Healthy" is the primary consumer expectation of plant-based products. Focus on replacing nutrition of the animal-based product a plant-based alternative is replacing (e.g. calcium and potassium in dairy; zinc and iron in meat), or introduce new health benefits to deliver on consumer expectations of health
Be mindful of sodium, sugar, and saturated fat content when choosing or creating plant-based alternatives
Not all plant proteins are equal – consider protein quality when formulating, especially for kids and active agers
Straight from our experts:
"New processing methods have advanced far beyond burgers and are focusing on delivering whole-muscle formats of chicken and red meat alternatives, flaked tuna, and shellfish and scallop alternatives. Dairy alternatives are developing across the category, from plant yogurt, cream cheese, milk & ice cream alternatives to the iconic burger cheese slice. Vegan egg products are on the rise, as substitutes for baking & cooking ingredients or as scrambled egg alternatives for breakfast. Plant-based fat is another technology area of growth, focusing on plant based solutions that deliver the mouthfeel, aroma, succulence and flavour of lard or tallow products. Ingredient declarations are cleaning up and nutrition is being improved by focusing on supplementing plant based products with the benefits found typically in the animal counterparts – protein quality, B vitamins, and calcium.

With all of this activity, plant-based technology is clearly one of the most exciting innovation areas to be involved in!" – Deirdre Smyth, Global VP Integrated Technology Innovation at Kerry
Explore further:
On-Demand Webinar – The Journey of Plant-based Innovation; Future Opportunities & Challenges
Plant-Based Nutrition – Challenges and Opportunities for Foods and Beverages
Flavour Masking Challenges in Plant-Based Meat Alternatives
The Unique Considerations for Food Safety & Shelf Life in Plant-Based Meat Alternatives
Nutrition Benefits of Plant Proteins Taking Root with Consumers
Formulating with Plant Proteins vs Dairy Proteins: Challenges and Current Solutions to Fill the Gap
---
Botanical Boom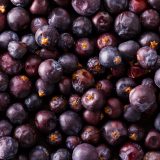 Botanicals are plant derived extracts which have been used medicinally for thousands of years. In 2022, consumer trends such as a desire for natural plant-based products and an increasing awareness overall health and emotional wellbeing have promoted the use of botanicals in food, beverage and supplements globally (4% CAGR). Popular examples include ashwagandha, ginkgo, ginseng and well known plants such as mint, vanilla and garlic which convey many 'healthy halo' messages for the consumer.
The current scientific evidence for the health benefits of many botanicals is still in development, which can make formal claims on foods and beverages challenging. For example, in Europe EFSA have a list of pending botanical claims which have been on hold for over a decade. Nonetheless, we are seeing emerging science and a growth in published peer reviewed literature for a variety of botanicals such as turmeric (anti-inflammatory / joint pain), cocoa (heart health), green tea (weight management) and ashwaganda (stress relief/sleep). The quality and safety of botanicals is an important consideration for regulatory authorities. Due to safety concerns, some regulatory bodies like EFSA have provided guidance on science-based safety assessments and a compendium of botanicals that have reported safety concerns. Therefore, the method of extraction is an important consideration for quality and safety of the botanical, as well as the taste of the final product.
Major takeaways:
Botanicals have a dual role as a way to deliver taste but also perceived health halos in areas like immunity, digestive health, energy, stress, sleep, and cognition
Science is still catching up to consumer perceptions for many botanicals, which can make claims challenging
Straight from our experts:
"Many food producers are leveraging the popularity of healthy halo botanicals to attract consumers, while combining these with science backed functional ingredients to deliver on the health benefits consumers are looking for. For example, ginger is perceived as having digestive health benefits. Using a ginger extract with a clinically proven probiotic in a food or beverage is an innovative approach with consumer health in mind." – Aoife Marie Murphy, PhD, Sustainable Nutrition Business Development Manager with Kerry
Explore further:
How Are Different Plant Extracts Made? Natural Flavourings, Extracts, and their Use in Organic Products
Botanical State of Mind White Paper – A comprehensive review of the psychology behind botanical preferences and associations
Food & Mood: Exploring the Science Behind Nutrition's Role in Mental Wellness
---
Mood, cognition, and sleep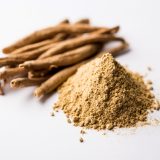 Health benefits linked to mental well-being have become the top benefits consumers look for in foods and beverages, especially among younger age groups (Food and Health Survey 2021, IFIC). A boom in products using words like "nootropics" and "adaptogens" is being seen, and people are becoming more familiar with ingredients like turmeric, ashwagandha, GABA, L-theanine, ginseng, B vitamins, and gingko.
When it comes to sleep, eating a balanced diet is essential to overall health and well-being but is also important from a sleep perspective. Certain nutrients may play a particular role in sleep quality. The National Health and Nutrition Survey (NHANES) analysed data from 26,511 participants and found that adults with short sleep duration had lower intakes of Calcium, Magnesium and Vitamin D. Adequate levels of vitamins A and K has also been shown to be important for sleep. Fatty fish (>5% fat) is a useful source of Vitamin D and omega -3 fatty acids; both nutrients are involved in the regulation of serotonin, which has a role in sleep regulation.
Food and mood are intrinsically intertwined, with both being able to affect the other. This means it can be difficult to tease out causal relationships of ingredients in studies, but there is more and more science emerging showing ingredients with benefits such as improved focus, short-term memory, or relaxation.
Major takeaways:
Science is still emerging in the area of mood and sleep – pair health halos with scientifically supported solutions
Think about dayparts when choosing a type of mood benefit (e.g. energy for morning, relaxation for afternoon, sleep for evening)
Straight from our experts:
"We know that nutrition can have a significant impact on how we sleep but, likewise, if we don't sleep well it can affect our eating behaviour. Insufficient sleep has been shown to be related to a greater incidence of obesity among adults. This means managing our sleep is a way to improve our nutrition, but we can also potentially use nutrition to improve our sleep. For example, recent clinical data has highlighted the positive impact of tart cherry juice and kiwis on sleep. Eating two kiwis one hour before sleep has been shown to improve the sleep of those with diagnosed sleep disorders as well as improving sleep in 'normal sleepers'. " – Lisa Ryan, PhD, Head of Department of Sport, Exercise and Nutrition in the School of Science and Computing at the Galway-Mayo Institute of Technology and Scientific Advisor to KHNI
Explore further:
Food & Mood: Exploring the Science Behind Nutrition's Role in Mental Wellness
Nutrition and the Brain – Summarizing the Science on Cognition and Memory
Diet and Sleep Physiology: Public Health and Clinical Implications
---
Microbiome – beyond digestive health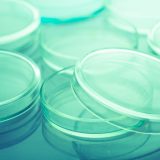 The evolving science on the microbiome has been one of the biggest stories in science for the past decade, and the more we learn, the more fascinating it seems to become. The link between the microbiome and probiotics in digestive health has been well-established and probiotics are one of the first ingredients people think of when they want benefits like reducing bloating or GI discomfort.
However, the microbiome's role in areas of health beyond the digestive system is becoming more and more apparent. Our bodies are home to trillions of microorganisms that reside on the skin, mouth, digestive tract, and many other body sites. As a result, the microbiome plays an essential role in immunity, weight management, heart health, blood sugar management, and mood. Probiotics have been shown to lower the frequency and duration of upper respiratory tract infections, reduce weight gain and insulin resistance, and reduce feelings of depression and anxiety.
The scientific understanding of how altering the microbiome leads to these effects is still developing. New research published this past year provided an expansion of the list of intestinal bacterial species able to sustain human health. One thing to keep in mind is that different probiotics are linked to different benefits; there is no single probiotic for whole-body wellness, at this moment.
Major takeaways:
The microbiome has been linked to a multitude of health benefits beyond digestive health including mood, reproductive health, immunity, exercise, and cardiometabolic health
When it comes to probiotics, choose one that has scientific backing for the specific claimed benefit
Straight from our experts:
"We continue to learn more about how specific bacterial species interact with different parts of the human body as well as the food we eat. Recent studies have also reinforced the idea that our long-term diets have greater effects on the functioning of our gut microbiomes than short-term changes or addition of individual nutrients. These advancements in understanding of the human microbiome will give us a new perspective to provide specific, effective dietary guidance for digestive health in coming years."– Maria Marco, PhD, Professor of Food Science and Technology, University of California-Davis and Scientific Advisor to the Kerry Health and Nutrition Institute.
Explore further:
A Review of Dietary and Microbial Connections to Depression, Anxiety, and Stress
Postbiotics and Their Role in Human and Animal Health
Your Guide to the Gut-Brain Axis
---
Body-positive weight management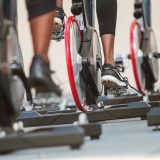 Following from decades of a weight management mindset of restriction and deprivation, society seems to be progressing to a much more positive mindset on weight focused on the question "what can my body do?" instead of a detrimental focus on the number on a scale.
This means that foods and beverages must follow suit to fit this new mindset. It is not enough to be low-calorie; a product must do something else to improve health, as well. This can mean creating low sugar/calorie drinks with mood or energy benefits, additional protein or fiber for satiety, or even other benefits like immunity or digestive health. Consumers do not want to focus on deprivation, so taste experiences are also a major point to address. Weight management products can still be indulgent experiences with the right formulation and flavours, and should be a key focus of this market. For example, kokumi has been shown to increase how many calories people perceive are in beef broths without there being an actual calorie increase.
Major takeaways:
Avoid a deprivation mindset for products and focus on positives – what does this product help someone do better?
Taste and indulgent experiences can be key – minimizing sugar while optimising taste, or using flavour experiences like umami or kokumi can increase palatability
Straight from our experts:
"I'm really excited to see the shift in weight management mindsets toward more positive attributes rather than restriction. I think it will lead to more sustainable weight loss long-term while also keeping people in a positive mindset, so there are mental health benefits, too. We should focus on reducing calories in foods and beverages across the board without reducing taste experiences, so this is a trend that relies heavily on balancing taste and nutrition." – Nathan Pratt, PhD, RD, Nutrition Scientist at Kerry
Explore further:
Low-Calorie Beverages – Overcoming Challenges Using Sensory Science
Does Intermittent Fasting Work? A Science-Based Answer
Umami – The Taste that Perplexes
5 Ways to Promote a Positive Body Image for Kids
---
Nutrition accountability amplified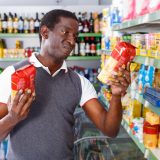 The regulatory landscape for nutrition is continuously evolving, and there have been considerable changes recently. Countries across the globe have implemented more stringent measures to improve the healthiness of the food available. These changes mostly include mandatory and voluntary front-of-pack nutrition signpost labelling, further taxes on sugar-sweetened beverages, and advertising restrictions on foods high in sugar, salt, and saturated fat. The UK, Brazil, Mexico, and Singapore are just some of the countries that are in the process of implementing new mandatory restrictions on the labelling and marketing of foods and beverages.
There is more to come, as well. The European Union plans to propose a mandatory front-of-pack nutrition label, and there are further taxes and reformulation targets due to be implemented at a national level in many European countries.
Ultra-processed foods (UPFs) are also an ongoing consideration by governments when reviewing and proposing nutrition policies. Consumption of ultra-processed foods has been linked to poorer measures of health, but also have a critical role in a sustainable food supply due to factors such as long shelf life.
Major takeaways:
National governments are becoming less forgiving to the food industry, propelling efforts to nutritionally improve foods and beverages
Consumers are becoming more health conscious, resulting in an increase in front-of-pack signposting
Differing front of pack labelling and marketing restrictions across countries will make it more difficult for companies to sell products across several countries
Decreasing nutrients of concern like sodium, sugar, and saturated fat while maintaining taste and shelf life will be the major challenges introduced by these global initiatives
Straight from our experts:
Nutrition labelling and regulations

"Changes in nutrition and labelling legislation are becoming more widespread to improve the health of the global population. This is resulting in many manufacturers looking to nutritionally improve their products. Delivering on better nutrition is also a common theme in many companies' sustainability policies, which is driving healthier innovation. In addition to this, the consumer is becoming more health conscience and brands are using front-of-pack signposting to help them make the healthier choice. The combination of these factors is driving the increasing need for innovative technology to help manufacturers create healthier, more sustainable products, that deliver on taste and experience." – Pattie O'Keeffe, BSc, RNutr, Nutrition Scientist at Kerry

Ultra-processed foods

"It's not enough to just reformulate foods for their salt, sugar, or fat content and try to match for liking; we now need to consider how the sensory properties influence our eating behaviour and intake. Food sensory properties are often only considered in terms of their impact on liking, but can also influence calorie selection, intake and contribute to post-meal satisfaction. Product reformulation to reduce calorie density should also consider how sensory cues can be enhanced to promote healthier eating behaviour, and keep sensory appeal and eating enjoyment at the heart of healthy diets." – Ciarán Forde, PhD, Professor Sensory Science and Eating Behavior, Division of Human Nutrition and Health, Wageningen University & Research
Explore further:
Restrictions on Advertising Unhealthy Foods – A Guide for Upcoming Laws
Salt and Health – What is Being Done Globally to Reduce Salt Intake?
European Commission Proposes Harmonised Front-of-Pack Nutrition Labelling System
The Food Industry's Role in Public Health: A Study on Nutrient Reformulation
Ultra-Processed Foods in Human Health: A Critical Appraisal
---
Immune health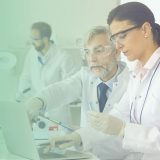 For the third year in a row, compounded by the ongoing COVID-19 pandemic, immunity has remained top-of-mind for most people as a desired health benefit. With such a prolonged focus on the topic globally, many people are now more familiar with recommendations to improve immunity through nutrition and even how the immune system works.
Nutrients like vitamin D, zinc, selenium and vitamin C are the nutritional mainstays for supporting immunity, but many other ingredients have gained popularity amid the pandemic. These include ingredients like yeast beta-glucans, probiotics, echinacea, elderberry, and even garlic. With so many emerging ingredients to navigate and conflicting information available, the most important thing to remember is to choose ingredients which are supported by strong scientific evidence. Our resources below are science-based to help you navigate the world of immune system nutrition.
Major takeaways:
Look for science-based claims – many products with an immunity health halo do not include science-supported ingredients, or do not include a dose that would provide a real benefit
Avoid misinformation – rely on resources that cite real scientific studies, or are written by experts in the field of nutrition or immunity
Immunity can weaken as we age, so a balanced diet rich in nutrients that support the immune system can become even more important in later years
Straight from our experts:
"The idea of 'nutritional immunology' is one of the most exciting developments in immunology. Previously, trying to affect the immune system has been the realm of pharmaceutical companies. Now, I see a paradigm shift in the way people think about affecting the immune system. Food is not necessarily medicine, but food has very important health effects beyond providing calories and has direct effects on the immune system."– Sonja Nodland, PhD, Principal Scientist for Research, Development, and Applications for Proactive Health at Kerry
Explore further:
Immune System Nutrition – Science At-A-Glance – learn about the roles of zinc, vitamin C, selenium, probiotics, and beta glucans in supporting a healthy immune system
What are Immunomodulators and How Do They Work?
The Role of Food in Maintaining Immune Health in Ageing
Expert Advice for Nutrition and Health During COVID-19
---
Personalised nutrition
At times, personalised nutrition seems like the future of health and nutrition, and other times it seems like it will take decades for science and technology to catch up to the idea itself. The idea of personalised diets for each individual based on their unique DNA, biochemistry, and microbiome is something we see many new start-up companies and products promising, but is science there yet?
We know that different people respond differently to nutritional interventions. For example, some people show large increases in blood content of lycopene, a bioactive found in watermelon juice, while others show none. Personalised nutrition would help us understand what our specific body responds to so that we can choose the most effective foods to eat for unique physiologies. A clear way this is already happening is in food allergies or intolerances, which can be tested for and adjusted in the diet.
In other ways, we are still a ways off from big-picture personalised nutrition. Personalised recommendations that account for the entire diet or all of an individual's health needs are likely still far off due to the need to build libraries of data and scientific substantiation on how genes or microbiomes interact with food and nutrients.
Major takeaways:
Personalised nutrition is about understanding which foods or nutrients individuals respond to, rather than groups of people
There are still substantial scientific hurdles to overcome, but progress is being made
Straight from our experts:
"What if a dietitian could recommend foods to choose that were twice as effective for an individual's specific genetics? Instead of 'eat more fiber', it's 'eat more barley'? This is the future you can see when you look at how different people's bodies respond to nutrition interventions. You can make dietary recommendations, or tailored foods or beverages, much more effective without requiring any more work on the consumer's part. " – Nathan Pratt, PhD, RD, Nutrition Scientist at Kerry
Explore further:
Why Are People Excited About Personalized Nutrition? A Story Hidden in Watermelon Juice
Diet-Microbiota Interactions and Personalized Nutrition
Opportunities and Challenges of Technology Tools in Dietary and Activity Assessment: Bridging Stakeholder Viewpoints
---
Technology and the future of food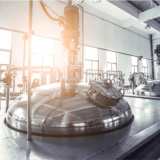 Given the monumental task we all face to feed a population of 10 billion people with one planet by 2050, food science and technology will be critically important in coming years. Methods of producing food in a way that reduce the environmental inputs and land required, and decrease carbon emissions produced are essential.
Ideas like cultured meat are in constant development and could reduce land use required to produce meat by up to 99%. and innovation in recent years has driven the average cost of producing a cultured meat patty down substantially. In addition, methods like precision fermentation have the ability to produce ingredients like animal proteins, vitamins, or minerals without the environmental inputs required by traditional means. Science holds the key to the future of our planet.
Major takeaways:
It will be nearly impossible to feed the planet's population growth using our current systems of food production; scientific advances are key
Fermentation is a sustainable, versatile, dynamic process but brings complexity
Multi-functional ingredients that can replace multiple ingredients in a food or beverage (e.g. a fiber that emulsifies and provides nutrition) can reduce the carbon footprint of production
Straight from our experts:
"To protect the future of the planet, we need to develop alternatives to animal-derived proteins. Fermentation has the ability to produce egg, dairy, or even plant proteins without the need for animal cultivation or conventional farming and the environmental impacts that come with each. Microbial stability, process robustness and scale-up are the main challenges this technology faces and are an active area of future-focused research." – Jacques Georis, PhD, Global Fermentation Science & Functional Technologies R&D Director, Kerry
Explore further:
On-demand Webinar – Fermentation: Will the Past Power the Future?
Make Haste on Food Waste – A Case Study in Reducing Bakery Food Waste Using Enzymes
Scientific, Sustainability and Regulatory Challenges of Cultured Meat
Fermented Ingredients for Natural Preservation
---
Active Ageing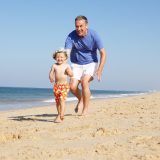 When it comes to ageing, the main question has shifted from "how long can I live?" to "how active can I be in my later years?". Despite the launch of many products claiming to be the secret to ageing well, scientists have not found the 'holy grail' of infinite longevity.
In lieu of solutions that seem too good to be true, science has advanced quite a bit in the area of maintaining physical function into later years. Physical activity and high protein intakes are recommendations we usually associate with younger people, but these recommendations are even more important as we age to maintain muscle mass. Older adults need much more protein than younger adults to grow or maintain muscle. However, people tend to decrease food and protein intake beyond age 50. Cognitive health, memory, joint health, and hydration are also important to healthy ageing.
Major takeaways:
Maintaining muscle mass is essential to keep us mobile and independent in our later years; higher protein intakes are vital to this goal
Nutrition support for joint health has also been an increased focus in science, especially on targeting joint-specific inflammation or providing building blocks for joint tissue
Hydration has links to cognitive health and memory, and people tend to drink less fluids beyond age 50
Straight from our experts:
"One of the major determinants of the rate at which we age biologically (e.g. our brain and body) is our lifestyle, such as diet, exercise, not smoking, etc. This means that healthy ageing is not something we start at age 65, but rather something we work on over the course of our entire lives.  Nutrition, physical activity and other healthy lifestyle choices have the potential to slow many of the ageing processes. For example, beginning in our 40s, we tend to lose about 1% of our muscle every year. Dietary changes like increasing our protein intake as we get older can help maintain that muscle so that we're better able to perform activities of daily living in our later years." – Caoileann Murphy, PhD, Research Dietitian at University College Dublin.
Explore further:
Active Ageing – Why is Protein So Important?
Active Ageing – How Can We Optimise Plant Proteins?
Nutrition and the Brain – Summarizing the Science on Cognition and Memory
The Role of Food in Maintaining Immune Health in Ageing
Webinar – Active Ageing: Distinct Nutrition, Distinct Innovation?