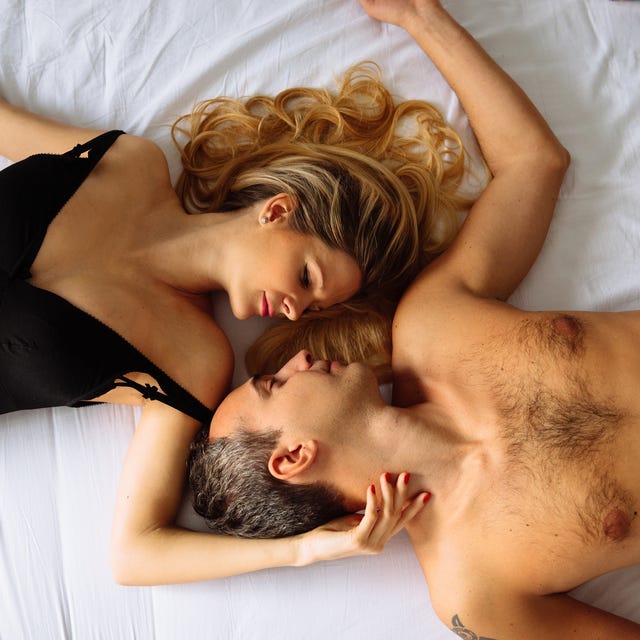 We've all heard the old adage: It's not the size of the wave, but the motion of the ocean that matters. But figuring out which ocean motion works best for your equipment is key to having the most pleasurable sex possible. The good news is there are a ton of great sex moves out there for folks who are a little less than well-endowed. In fact, once you know the best small penis sex positions, we guarantee your motion will be the talk of the sea.
Water metaphors aside, let's quickly talk about what it really means to have a "small penis." According to a 2015 study, the average penis length is 5.16 inches (about the size of a dollar bill). If your penis falls short of that benchmark, then you are statistically on the smaller-than-average side. Don't worry, though. For most people, someone having a small penis isn't a dealbreaker. In fact, studies have shown that receiving folks don't care that much about penis size in the first place.
Of course, you still might feel insecure about your penis size since society acts like BDE is the end-all-be-all. In fact, Holly Richmond, Ph.D., certified sex, marriage, and family therapist, says it's those false ideals that might be causing discord. "Some [people] make the mistake of comparing themselves to porn stars—the Olympic athletes of sex—and that just isn't realistic," she says. In her practice, she doesn't often come across people wanting a partner with a giant schlong, but instead, they just want someone who's good at sex. "That means someone who is communicative, takes their time, and is attentive to [their partner's] needs," Richmond explains.
What's more, once you know how to work it, you'll actually be able to use that smaller penis to your (and your partner's) advantage. "Anecdotally, I've heard that people with small penises are better in bed because they make more of an effort," Richmond says. Not a bad endorsement.
So if you happen to be packing a little light, here are 10 sex positions for small penises that'll get you the most bang for your on-the-smaller-side buck.
---
Doggie Style
How to do it: Classic doggy style is the perfect small penis position because, as Dr. Richmond explains, it "facilitates deep penetration so you can utilize the entire length of your shaft." To engage in doggy, your partner simply goes down on their hands and knees (or elbow and knees for an even deeper sensation) while you penetrate them from behind. Hold onto their hips, waist, or even hair (if they consent to a little pulling) for additional control and leverage.
Why it's great: Doggy is a universal favorite for all sizes because it's easy to master, it gives you a nice view of your partner's ass, and it leaves your hands free to provide extra clitoral, testicular, or nipple stimulation. Another bonus? "You control the speed and pattern of your thrusts for maximum penetration and pleasure," Dr. Richmond says.
Face-Off
How to do it: Sit on the edge of a couch, chair, bed, whatever, and have your partner climb on top of you for some straddling-style penetration. They can use their feet and hands to move their body while you help guide their hips with your hands. Oh, and in case the name of the position didn't give it away, you'll want them to face you.
Why it's great: This position is perfect for people with small penises because it's less about "in and out" penetration and more about "wiggling" around while you're inside your partner. Another perk is that it allows for kissing, nipple play, and heavy erogenous zone petting. Sex therapist and author of She Comes First, Ian Kerner, PhD, says you can also consider wearing a vibrating cock ring with this position. "If you deep thrust with a vibrating cock ring, you'll be providing intense clitoral stimulation which will compensate for lack of cervical stimulation," he says.
The Little Dipper
How to do it: For the Little Dipper, your partner uses either a bed, couch, or chair to hoist their body up and over you. They'll then use the furniture to sort of hold their body over yours so that only your pelvises are touching. If done correctly, you should be in a T-shaped formation as you insert your penis into your partner's vagina or anus (whichever you both are feeling).
Why it's great: This position allows for both deep penetration and easy access for clitoral stimulation, Dr. Kerner says. "The vagina has far fewer nerve endings than the clitoris, which is only intermittently stimulated during most standard intercourse positions," he explains. That's why positions that allow for clitoral stimulation and deep vaginal penetration (like the Little Dipper) are ideal for people with smaller penises.
Cowgirl
How to do it: There are numerous cowgirl position variations out there, and it's tough to recommend just one because it depends on how small your penis truly is, not to mention its angle. Classic cowgirl (or cowboy/partner-on-top) is always a good place to start, though. Simply lay back while your partner straddles you from atop and inserts your penis into their vagina or anus. Thrust as they grind to create some fantastic friction. If that's not working for you, try switching to squatting cowgirl, which allows for even deeper penetration, manual clitoral stimulation, and G-spot stimulation.
Why it's great: From the instant clitoral stimulation to how filled up your partner will feel, cowgirl will forever be one of the all-time best sex positions around. The best part is how intimate the position can be when you're facing each other and how kinky it can feel in reverse…
Stand and Deliver
How to do it: Also known as the Bicycle, Stand and Deliver allows for incredibly deep penetration. Stand at the edge of a bed or desk while your partner lies back and raises their legs to their chest (so their knees are bent as if they're doing a "bicycling" exercise). From there, grab their ankles and enter them.
Why it's great: This is another position that allows for both deep penetration and manual clitoral stimulation, Dr. Kerner says, and it's pretty easy to do whether you're in the bedroom or on the couch. Also, if you tend to gravitate toward missionary position, this will feel somewhat familiar while still providing a fuller sensation.
Elevated Reverse Cowgirl
How to do it: Elevated reverse cowgirl is just a simple variation of the classic reverse cowgirl. Basically, get into cowgirl position but instead of your partner facing you, they face your feet. Then, to maximize penetration, Dr. Richmond says you should place a pillow under your hips. "You're laying on the bed or floor, and they're sitting on you facing away," she explains.
Why it's great: As we already mentioned, cowgirl is *chef's kiss* for deep penetration, but Dr. Richmond says when you add in that extra elevation under your hips, your partner is able to sink lower which allows the deep sensations to get even deeper.
The Spork
How to do it: "Have your partner lie on the floor with one leg extended straight. Kneel between their legs and raise their other leg straight up so it's resting on your shoulder," says Dr. Richmond. "Keep a hold of their leg as you enter, and use it to push and pull on as you thrust in and out."
Why it's great: This position is awesome because it allows you to use your partner's leg as leverage. Plus, lifting up one of your partner's legs makes them feel more filled up when you enter them, thus eliminating any "I don't think I can get deep enough" worries.
Pole Position
How to do it: "Sit on the side of a couch and have your partner sit on you, but with their legs facing either right or left rather than straight ahead," suggests Dr. Richmond. You can either use your hands to lift their hips up and down or, if you're sitting down low enough, they can use their feet to push off the floor to create momentum.
Why it's great: It's all about the added inches the side positioning adds. "This will cause their hips to drop slightly more than in normal cowgirl, and give you the extra penetration you're looking for," Dr. Richmond explains.
The G-Whiz
How to do it: Ready for a position that maximizes penetration to a whole other degree? Enter: the G-Whiz. "Have your partner lie on their back and pull their knees up to their chest and roll back so their hips lift off the floor," Dr. Richmond says. From there, you just scooch up in front of your partner and penetrate. Dr. Richmond adds that if your body permits, you can actually squat next to your partner with your knees moving outside of theirs. Just make sure to do this on a carpeted floor or couch and watch out for rug burn.
Why it's great: This position is awesome in two parts, first because your partner's hips are elevated and you can easily manipulate the force of your thrusts. Secondly, with that amount of control, there's a slightly dominate/submissive vibe which—as long as everyone consents—can make the whole experience feel much more erotic.
The Flatiron
How to do it: Have your partner lie on their stomach with their feet squeezed tightly together. To help with penetration, have them put a pillow underneath their pelvis. Dr. Richmond says you'll then lie on their back and enter them from behind.
Why it's great: "Because their hips are in a position that's more closed than open, there will be greater friction created on their vaginal walls," explains Dr. Richmond. This means the tighter they squeeze their legs, the more stimulation (and pleasure!) you'll both feel.