It's that time of year again: Christmas is around the corner, the nights are darker (and a lot colder) and you have a steady stream of party invites steadily cluttering up your inbox. Every year, you say you'll leave plenty of time for some important party prepping – only to scramble through your wardrobe a few hours beforehand, with a panicked exhale of 'I have nothing to wear', and hurriedly apply a few coats of mascara before calling it a day. Sound familiar? Not anymore. We've teamed up with British luxury department store Harvey Nichols to bring you the ultimate guide to getting party ready this Christmas and New Year.
The Ultimate Guide to Getting Party Ready
Read on for curated edits of the most dazzling partywear this season (and how to style the biggest trends), recommendations for squeezing in a pre-party pamper session, and how to bring it all home with one of Harvey Nichols' signature beauty hampers (which you will no doubt find hard to share once opened).
Wardrobe Upgrade
2022 marks the year many of us will finally get to enjoy a Christmas party in over two years, with lockdown restrictions a thing of the past (touch wood) and social gatherings no longer limited to groups of six. It should be no surprise to us all, then, that we're in the 'dress to impress' mindset this year. Harvey Nichols' huge selection of luxury brands and designers makes it easy to shop your whole party wardrobe in one place, with ultra-fashionable edits of clothing, shoes and accessories just a click away.
End of year celebrations are the perfect opportunity to go above and beyond the mundane, letting us shake off the wintry cobwebs and try something excitingly new. This festive season, make the most of your going out-out wardrobe and channel some of the biggest trends hitting the dancefloor (or, perhaps more importantly, the office party) right now…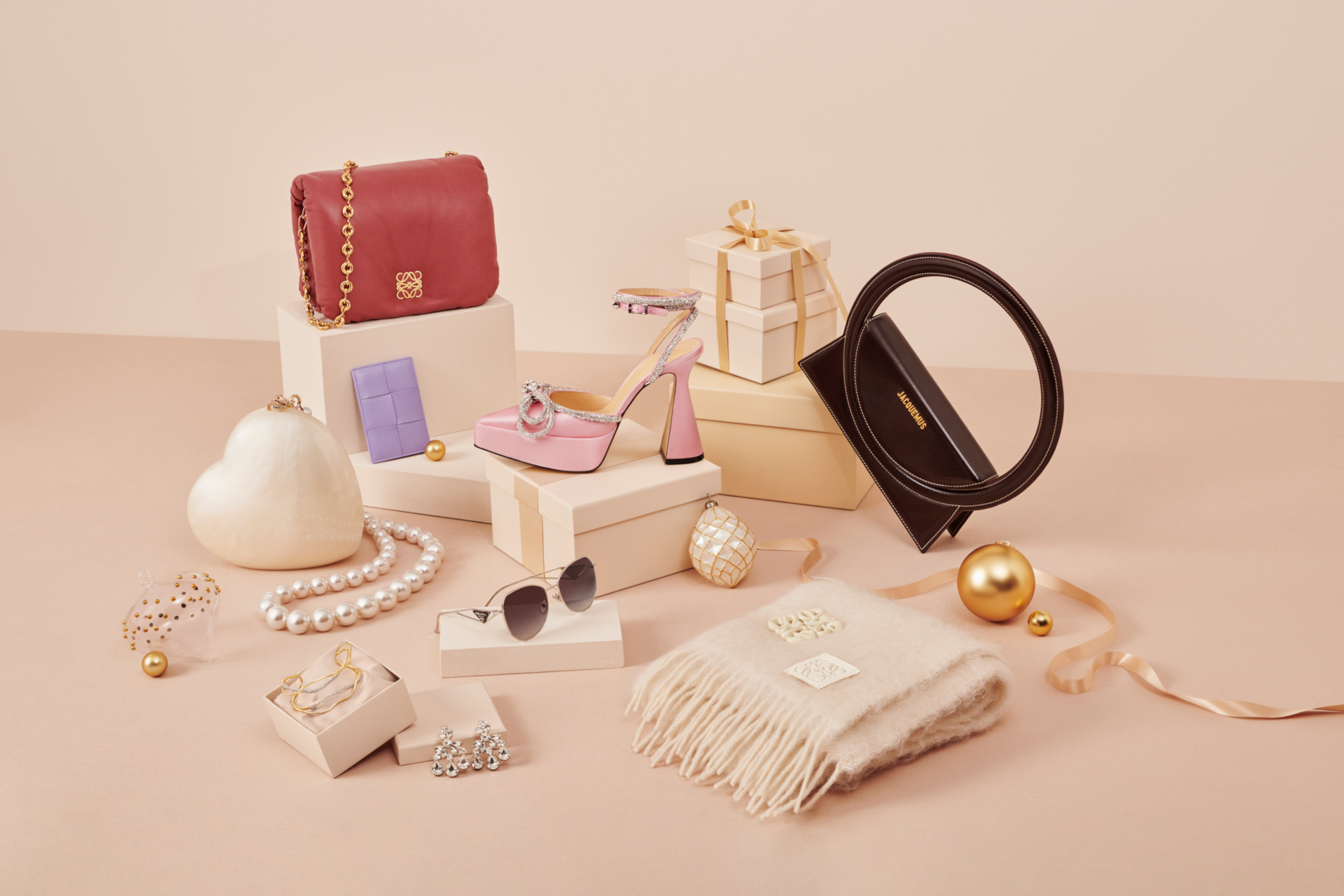 Metallic surfaces
Who doesn't want to dazzle on the dancefloor? We've seen a massive resurgence in all things rhinestoned, sequined and metallic – all of which make for perfect party attire. The emphasis here is on fun textures and reflective surfaces (prepare to release your inner magpie) in exciting places, from silver cowboy boots and shimmery skirts to fun chainmail accessories. Some of the brands tackling the trend head-on this season include Vince, Paris Texas and Paco Rabane, to name a few.
Dopamine dressing
This one's pretty simple: dress for you, and nobody else. Dopamine dressing is all about having fun and embracing the colours, patterns and textures that put a spring in your step. Pinterest coined this as one of the biggest trends of 2022, claiming that 'dressing loud is the new dressing down' – so, don't be afraid to go all out when it comes to your winter wardrobe. Key players in the game include Mach & Mach, 16Arlington and (once again) Paris Texas.
Celestial chic
We're looking to the stars for styling inspiration this season – and with evenings now closing in earlier and earlier, we have the entire night sky to fuel our celestial motivations. Zimmermann took us to the skies with its AW22 collection, which incorporated astrological symbols, glittering stars and swirling milky ways for a totally dreamy finish. Find out more about Zimmermann's 'Stargazer' campaign here.
Classic glam
Feeling a bit overwhelmed with all the new trends popping up this year? Well, rest assured: classics never die. Trends come and go, and fall back into fashion more often than not – but tried-and-tested styles that stand the test of time are the best investment for your wardrobe. Whether this translates to a killer suit, sequined cocktail dress or a good pair of heels is up to you. Those after some inspiration can look to Mansur Gavriel for stylish arm-candy, Veronica Beard for refined femininity (with a dash of fantastic tailoring) and Vince for elevated luxury this season.
Sound fun? Shop these trends below, with Harvey Nichols' curated edit of the best partywear for 2022:
Treat Yourself
And speaking of going all-out, how does a luxury party preparation treatment sound? Before you hit the town, make your way down to Harvey Nichols' Knightsbridge store to try out one of its in-store beauty services. Dubbed by many as the 'dream destination for every beauty and grooming need', the various salons, studios and blow dry bars at Harvey Nichols are a must-visit come party season. This is the perfect space for getting your skin prepped and glowing, your brows and lashes tidied up and your hair artfully styled just in time for the celebrations.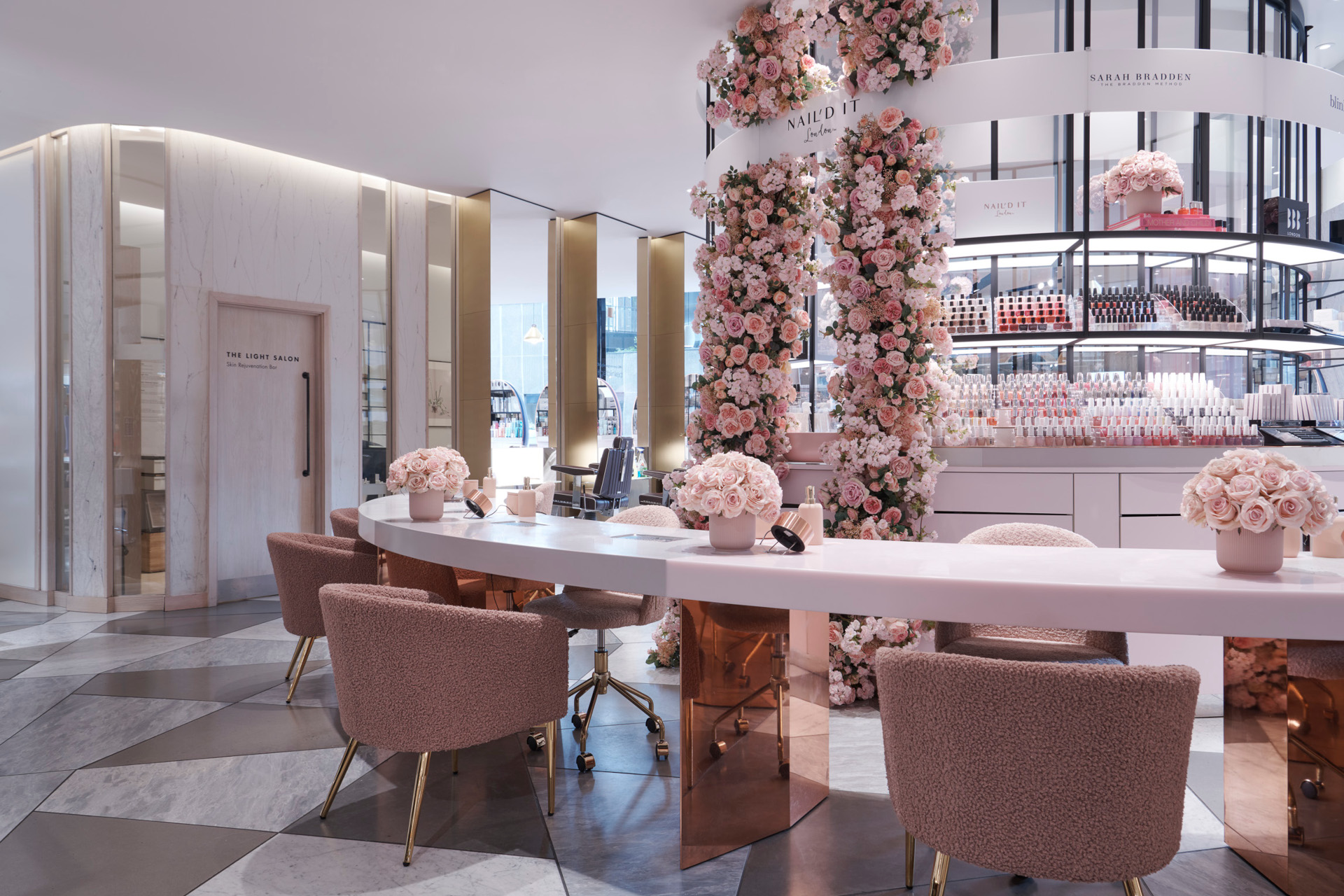 The Light Salon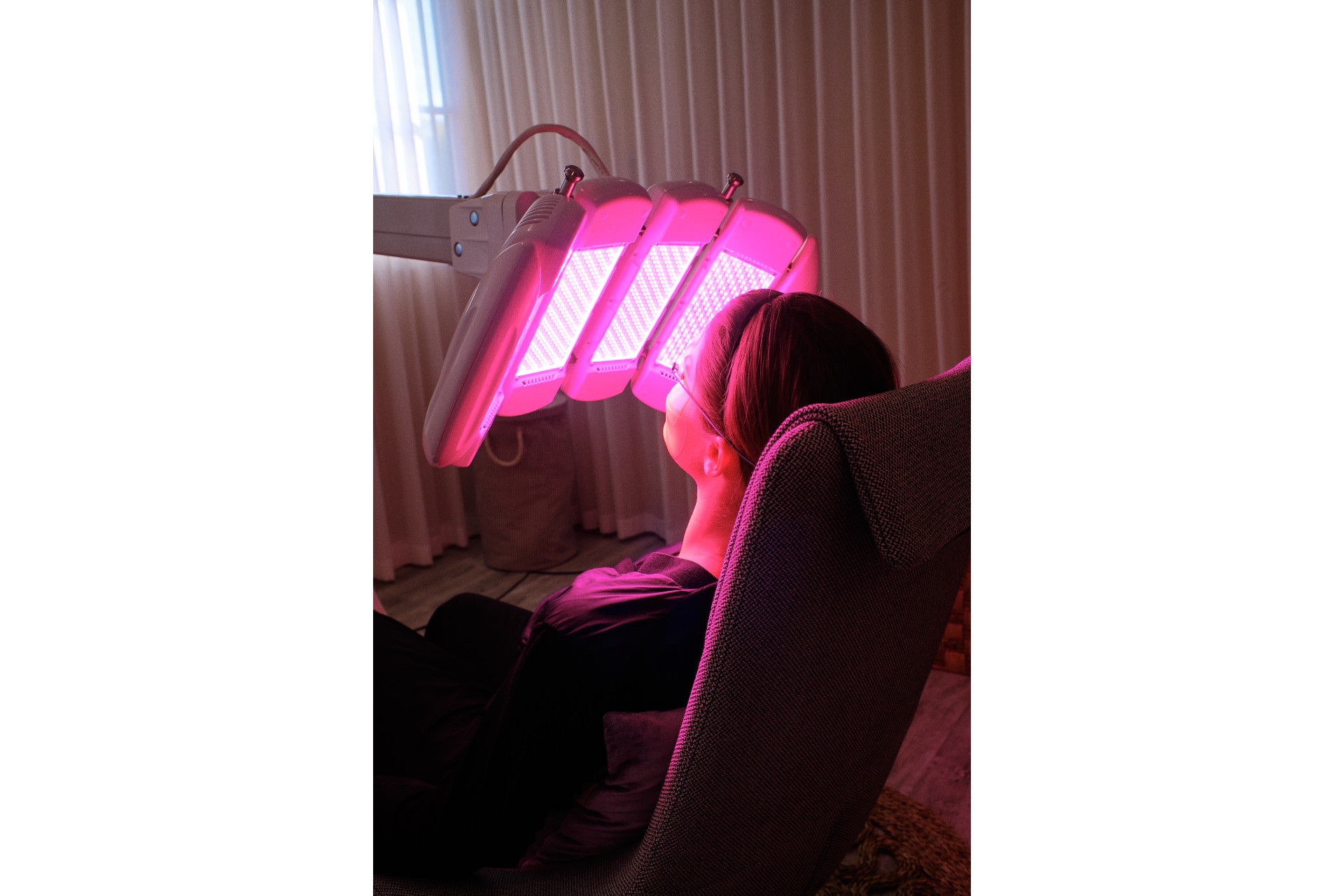 Founded by Hannah Measures and Laura Ferguson in 2015, The Light Salon in Harvey Nichols uses the latest LED technology to help stabilise, strengthen and support the skin's structure (and leave glowing results). The Light Salon offers LED light therapy as a non-invasive, pain-free solution for the prevention, repair and maintenance of ageing, damaged and uneven skin. After one treatment, visitors can expect an envious luminosity that will last two to three days – meaning back-to-back socials will pose no issue this party season.
Must-Book Treatment: The Signature 830nm Light Treatment costs £45 for 20 minutes | Full Treatment Menu
Beyond MediSpa
Harvey Nichols' advanced medical and aesthetic centre, Beyond MediSpa, specialises in next-gen treatments for face and body. There are a vast number of services on offer, including facials, laser hair removal, injectables and body contouring therapies, meaning you'll be spoilt for choice on your visit. We'd recommend the HydraFacial for party preppers this year. It's made for all skin types and shows immediate results, targeting specific skin concerns and providing an alternative to invasive procedures (meaning no discomfort, and no need for downtime afterwards).
Must-Book Treatment: The HydraFacial costs £160 for an hour | Full Treatment Menu
Shavata Studio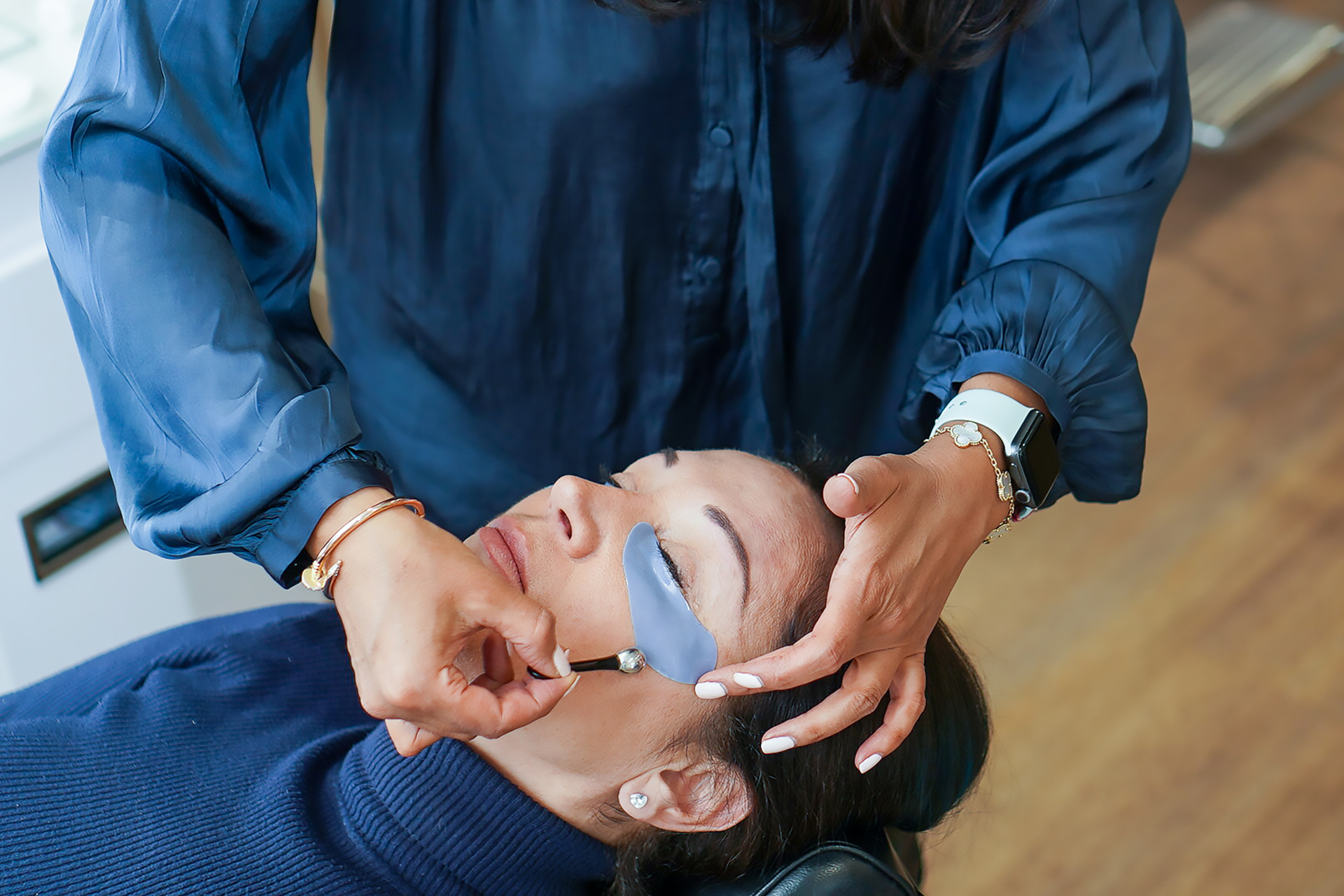 If brows and lashes are at the top of your list for your next salon visit, look no further than Shavata Studio at Harvey Nichols. Headed up by Shayata Signh, known in beauty circles as London's 'Brow Queen', the studio offers a selection of services for brows and lashes spanning tinting, lifting and extensions. This party season, the studio has created a special pampering treatment in collaboration with 111SKIN. Those taking part will be treated to a 111SKIN eye mask of choice, with one set under the eye and an additional set over the eye area (you can even mix and match sets if you have any specific skin concerns). This is followed by a 20-minute Shavata Singh London shoulder and arm massage, an additional head and neck treatment, and the 111SKIN Eye Repair Serum to finish.
Must-Book Treatment: The 111 Skin x Shavata Lash Luxe Platinum Treatment costs £75 | Full Treatment Menu
EXPLORE: 
Jo Hansford Blow Dry Bar
No look is complete without a killer hairdo, right? Harvey Nichols' famous blow dry bar is led by Jo Hansford MBE, a leading authority in hair colour, as well as a brilliant team of stylists who will flawlessly execute a beautiful balayage, stylish highlights and, if you're in the mood for something completely different, even a dramatic colour change. The stylists at Jo Hansford are held in the highest regard for their extensive skillset. With innumerable years of experience between them, the team have an unrivalled understanding of all hair types and textures from European to Asian and Middle Eastern hair. With exceptional attention to detail, they work individually on clients to produce signature beautiful blow dries.
Must-Book Treatment: A 30-minute styling session (with choice of eight menu styles) is £35 | Full Treatment Menu
BOOK
To book a treatment, please call 0207 259 4410 or visit the 
Home Comforts
A lot goes into party prep, and with many of us busy in the throng of day-to-day life it's not always possible to squeeze in a trip to the salon –  no matter how badly we want to go. When the time calls, make sure you're prepared to give yourself (or someone special) the ultimate glow up. The best way to do so? With a hamper, of course.
This year, Harvey Nichols' selection of beauty hampers is bigger and better than ever. Guaranteed to get you into the festive spirit, the selection we present to you below has been hand-selected the department store's team of expert buyers and features collaborations with a number of iconic brands – from Charlotte Tilbury and La Mer to Fenty and Maison Francis Kurkdjian – to create a super-luxe bespoke offering for Christmas and New Year.
The ideal gift for loved ones (or for yourself, because you definitely deserve it), Harvey Nichols' hampers are made for every kind of beauty enthusiast – from the skincare savvy and makeup master to fragrance fanatic and wellness warrior. Happy gifting!
The ultimate gift for skincare lovers, the Let it Glow hamper contains all the little luxuries you need to give you a radiant complexion for party season. This is an ideal arsenal to have on hand in the lead up to a big event (as well as the night after).
CONTAINS: 
Kate Somerville ExfoliKate® Cleanser Daily Foaming Wash 50ml
La Mer The Lip Polish
111SKIN Rose Gold Illuminating Eye Mask
111SKIN Rose Gold Brightening Mask
Charlotte Tilbury Charlotte's Magic Cream Moisturiser SPF15 30ml
Tan Luxe Super Glow Serum 30ml
Caudalie Beauty Elixir 100ml
Want to create the perfect party makeup look? Harvey Nichols has curated this glamorous gift set – housing cult beauty favourites like Charlotte Tilbury, Fenty, Larry King and 111SKIN – that will have you feeling party-ready in no time.
CONTAINS:
Fenty Beauty Gloss Bomb Universal Lip Luminizer – Fenty Glow
UOMA Afro.dis.iac Liquid Eyeliner Mini
Iconic London Triple Threat Mascara
Charlotte Tilbury The Charlotte Darling Iconic Palette
Larry King A Social Life For Your Hair 30ml
Juliette Has A Gun Musc Invisible Eau de Parfum 7.5ml
111SKIN Rose Gold Illuminating Eye Mask
When it comes to putting on those important finishing touches, don't underestimate a killer fragrance. Described as 'a fragrance addict's dream', the Baccarat Rouge 540 gift set features Maison Francis Kurkdjian's signature scent in fragrance, lotion and candle form.
CONTAINS:
Maison Francis Kurkdjian Baccarat Rouge 540 Eau De Parfum 70ml
Maison Francis Kurkdjian Baccarat Rouge 540 Body Lotion 250ml
Maison Francis Kurkdjian Baccarat Rouge 540 Candle 280g
If you want to go all out this party season, look no further than the Charlotte's Heroes hamper. Packed with eight of the cult beauty brand's best award-winning skincare and makeup products, this is the hamper of beauty dreams (and makes for an epic gift come Christmas).
CONTAINS:
Bigger Brighter Eyes in Exagger-Eyes
Charlotte's Magic Cream Moisturiser SPF15 30ml
Instant Magic Facial Dry Sheet Mask
Matte Revolution Lipstick -in shade Pillow Talk
Lip Cheat Lip Liner in shade Pillow Talk
Airbrush Flawless Setting Spray 100ml
Pillow Talk Push Up Lashes!
Hollywood Beauty Light Wand – Spotlight
Let the season of celebrations begin with a bang (and some fizz) with the All Is Bright hamper, a super luxurious duo of Veuve Clicquot champagne and a rich, citrusy candle from Acqua di Parma.
CONTAINS:
Veuve Clicquot Yellow Label Brut Champagne NV
Acqua di Parma Luce Di Colonia Candle 200g
DISCOVER
Make sure you feel well and truly ready this party season with luxury department store Harvey Nichols, where you can shop the latest trends, treat yourself to the ultimate pamper session and find the perfect gifts for Christmas – all in one place.